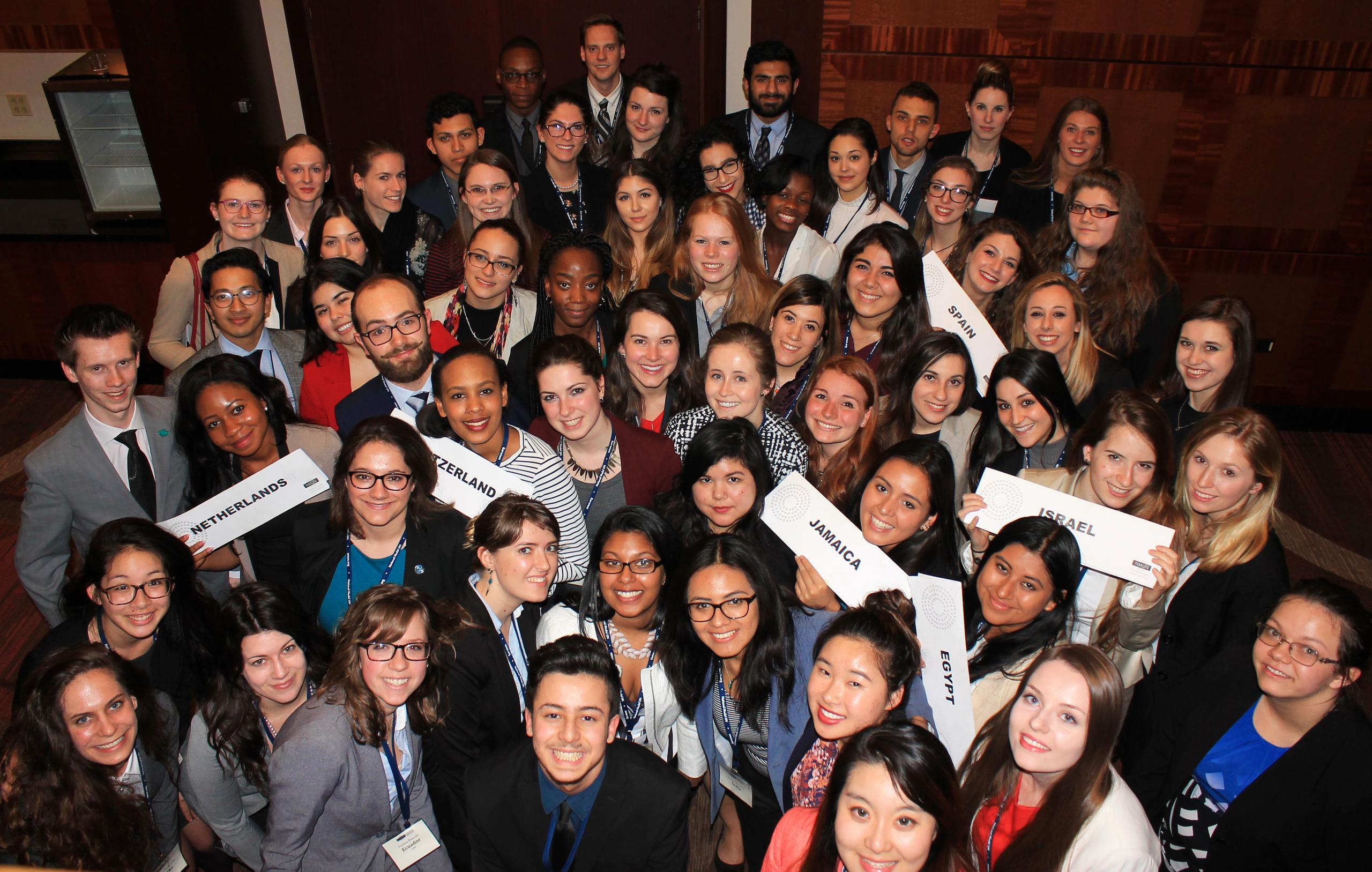 By The Numbers
National Model United Nations (NMUN) prepares university students to be better global citizens and the next generation of international leaders. Participants in our United Nations simulations propose solutions to global concerns while gaining skills in debate, conflict resolution, and compromise.
During the 2021-2022
Academic year we held:
New York City (A and B)
Washington, DC
With Participants from
105
UN Member States
47
US States
274+
Colleges & Universities
Global Diversity
The continued growth of our NMUN simulations has resulted in more diverse conference attendees and a more accurate reflection of the United Nations Member States. More than 50% of our participants are from outside the U.S.
NMUN simulations benefit from the diverse voices of delegations from around the world. To help promote international awareness and diversity, we encourage faculty advisors and head delegates to comprise delegations reflecting the diverseness of their own campuses.
Breakdown of United States Diversity
61%

U.S. White

15%

U.S. Latino/Hispanic

9%

U.S. Black

8%

U.S. Asian/Pacific Islander

7%

U.S. Multiracial/Other
Participating Schools & Students from UN Member States
Schools reported they brought students from these 105 UN Member States to NMUN in 2021-22.
Afghanistan
Albania
Algeria
Angola
Argentina
Austria
Bahamas
Bangladesh
Barbados
Belgium
Bolivia
Bosnia and Herzegovina
Brazil
Bulgaria
Burundi
Cambodia
Cameroon
Canada
Chile
China
Colombia
Costa Rica
Cuba
Denmark
Dominican Republic
Ecuador
Egypt
El Salvador
Eritrea
Eswatini
Ethiopia
France
Gabon
Germany
Ghana
Guinea
Guinea Bissau
Guyana
Haiti
Honduras
Hungary
India
Indonesia
Iran
Iraq
Ireland
Israel
Italy
Jamaica
Japan
Kazakhstan
Kenya
Lao Peoples Democratic Republic
Lebanon
Libya
Lithuania
Luxembourg
Madagascar
Mali
Malta
Mexico
Morocco
Myanmar
Nepal
Netherlands
New Zealand
Nicaragua
Nigeria
North Macedonia
Norway
Pakistan
Panama
Peru
Philippines
Poland
Portugal
Republic of Serbia
Romania
Russia
Saudi Arabia
Senegal
Singapore
Slovakia
Slovenia
Somalia
South Africa
South Korea
Spain
Sri Lanka
Sudan
Sweden
Switzerland
Tajikistan
Thailand
Togo
Trinidad and Tobago
Tunisia
Turkey
Ukraine
United Arab Emirates
United Kingdom
United States of America
Venezuela
Vietnam
Zimbabwe
2021-2022 Expenses
As a small nonprofit organization, NMUN is proud that 89% of support is spent directly on programs and less than 1% on fundraising. Your donation helps us to prepare university students to be better global citizens.
10.8%
General Administration
Statement of Financial Position - 31 May 2022
Assets

Reserves

(Including Investments and Endowment)

$4,066,974

Accounts Receivable / Prepaid Expenses

$38,204
TOTAL ASSETS
$4,105,178
Liabilities & Net Assets

| | |
| --- | --- |
| Accounts Payable | $0 |
| Liabilities/Deferred Revenue | $312,419 |
| Net Assets | $3,792,759 |
| TOTAL LIABILITIES & NET ASSETS | $4,105,178 |
a List of Our Donors
Donor Recognition
We'd like to thank our donors, listed below. Donations are tax deductible as a charitable contribution for U.S. residents. Donate and join our list. Donations received from 11 March 2021 – 1 April 2022.
Organizations
$900 or more
Columbia University SPS
Seton Hall University, School of Diplomacy
Syracuse University, Maxwell School
$700 - $899
School of Global Policy and Strategy, University of California, San Diego
University of San Francisco, Graduate School
$600-$699
Clark University 
Middlebury Institute of International Studies
Rutgers University
The Fletcher School, Tufts University
University of St.Gallen
$400-$599
UMN - Master of Human Rights
$300 - $399
APSIA (Association of Professional Schools of International Affairs)
Cambridge Scholars Press
Georgetown University, School of Foreign Service
Hamilton Lugar School of Global and International Studies, Indiana University - Bloomington
International Relations MA Program, New York University
NYU School of Professional Studies
Pepperdine School of Public Policy
Rockefeller College of Public Affairs & Policy, University at Albany (SUNY)
The George Washington University, Elliott School of International Affairs
University of Siegen
Individuals
$1,000 or more
In Memory of Judy Eaton
Michael Eaton and Paul VanCura
$500 - $749
H. Stephen and Helen Halloway
Joseph Melrose
$250 - $499
Clarissa L. Estep 
Chaldeans Mensah
Prof. Dr. Andreas Müglich 
Richard Murgo and Carol M. Glen
Patrick Parsons
Tina M. and Ronald P. Zappile
$100 - $249
Eric Cox and Jennifer Andrews-Cox
Amierah Ismail
Lichtenstein Family
Matthew D. Murray 
Dr. S. Rashid and Jelena Naim
Richard Reitano and Claudia Archimede 
Karen Vogel and Venu Turlapaty
Thera Watson 
Lori Zenuk-Nishide & Donna Tatsuki
Dominika Ziemczonek