National Model United Nations (NMUN) prepares university students to be better global citizens and the next generation of international leaders. Participants in our United Nations simulations propose solutions to global concerns while gaining skills in debate, conflict resolution, and compromise.
NMUN by the Numbers
3 Conferences
New York City
Washington, DC
Kobe, Japan
Participants from
130 UN Member States
48 U.S. States
430 Colleges / Universities
Engaging
7,194+ Global Citizens including:
6,540 Student Delegates
466 Faculty
188+ Volunteers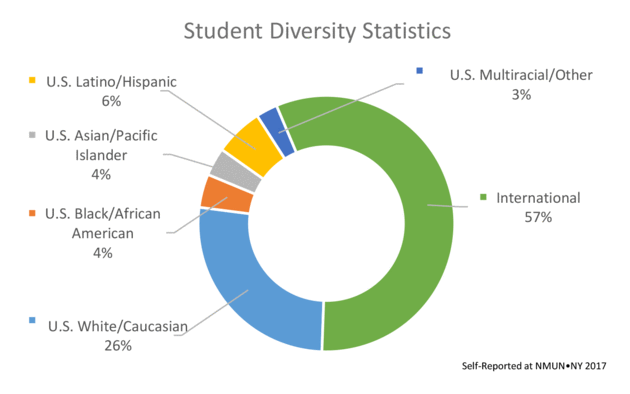 Global Diversity
The continued growth of our NMUN simulations has resulted in more diverse conference attendees and a more accurate reflection of the United Nations Member States. More than 50% of our participants are from outside the U.S.
NMUN simulations benefit from the diverse voices of delegations from around the world. To help promote international awareness and diversity, we encourage faculty advisors and head delegates to comprise delegations reflecting the diverseness of their own campuses.
Participating Schools & Students from UN Member States
Schools reported they brought students from these 130 UN Member States to NMUN in 2016-17.
Afghanistan
Albania
Algeria
Argentina
Armenia
Australia
Austria
Bahamas
Bangladesh
Belarus
Belgium
Belize
Bhutan
Bolivia
Bosnia and Herzegovina
Botswana
Brazil
Bulgaria
Burkina Faso
Cambodia
Cameroon
Canada
Chile
China
Colombia
Colombia
Costa Rica
Croatia
Cyprus
Czech Republic
Democratic Republic of the Congo
Denmark
Dominican Republic
Ecuador
Egypt
El Salvador
Fiji
Finland
France
Gambia
Georgia
Germany
Ghana
Greece
Guatemala
Guyana
Haiti
Honduras
Hungary
India
Indonesia
Iran
Iraq
Ireland
Israel
Italy
Ivory Coast
Jamaica
Japan
Jordan
Kazakhstan
Kenya
Kyrgyzstan
Laos
Latvia
Lebanon
Lithuania
Luxembourg
Malawi
Malaysia
Mali
Mexico
Mongolia
Montenegro
Morocco
Myanmar
Nepal
Netherlands
New Zealand
Nicaragua
Nigeria
Norway
Pakistan
Panama
Paraguay
Peru
Philippines
Poland
Portugal
Romania
Russia
Rwanda
Saudi Arabia
Senegal
Slovenia
Somalia
South Africa
South Korea
Spain
Sri Lanka
Sudan
Swaziland
Sweden
Switzerland
Syria
Thailand
Togo
Trinidad and Tobago
Tunisia
Turkey
Turkmenistan
Ukraine
United Arab Emirates
United Kingdom
United Republic of Tanzania
United States of America
Uzbekistan
Venezuela
Vietnam
Yemen
Zimbabwe
Stewardship
As a small nonprofit organization, NMUN is proud that 87% of support is spent directly on programs and less than 1% on fundraising. Your donation helps us to prepare university students to be better global citizens.
Statement of Financial Position - 31 May 2017
Assets

Reserves (Including Investments and Endowment)

$ 3,123,936

Accounts Receivable / Prepaid Expenses

$ 103,656

Total Assets

$ 3,227,592
Liabilities and Net Assets

Accounts Payable

$ 0

Liabilities / Deferred Revenue

$ 142,608

Net Assets

$ 3,084,984

Total Liabilities and Net Assets

$ 3,227,592
As in previous years, the 2016-17 audit was conducted by CliftonLarsonAllen.